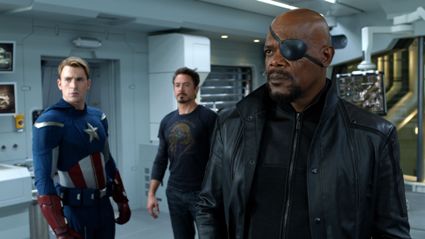 First seen in the Marvel movie-verse as a post-credit moment in "Iron Man," Samuel L. Jackson's eyepatch-wearing, glowering super-super-secret agent Nick Fury has become a common thread in the later films — and steps up to the front in "The Avengers." We spoke with Jackson in L.A. if he knew all of this was going to happen, the best part of working with writer-director Joss Whedon and if he is, as his co-stars suggest, scarier before lunch than after …
MSN Movies: This character has gone from this little post-credit "Yes!" moment to being this huge presence in these films and in this shared universe. Did you know it was going to be like that from the jump?
Samuel L. Jackson: I didn't know it, but I kind of felt something positive was going to happen through all this after the great response we got to the little tag ending of "Iron Man," and all of a sudden I pop up in the next one with Natasha, who enhances my presence. Hopefully being the ligament that ties all these different films kind of mentioning "The Avengers" initiative all the time. Mentioning and hinting at kicking somebody out of "The Avengers" initiative wasn't even in at a certain point, so people kind of go, "What's he talking about?" Finally you get to a place where you see what Nick Fury has been trying to do.
You have this film where you have CGI, huge green people throwing cars around …
He's not real?