A man seeks tickets outside the Eccles Theatre during this year's Sundance film festival. Photograph: Lucas Jackson/Reuters
At this year's Sundance film festival, which played out over 10 freezing days in Utah and came to a close last Sunday, the divide between American cinema and the news stories defining the nation's mood seemed narrower than ever. From abuses of military power abroad to the financial meltdown at home, to the long, sad aftermath of hurricane Katrina, real-world concerns were being tackled in challenging and provocative ways by the films in competition. And not only by those in the documentary section, which can be relied upon to respond sharply to recent events. These stories were also being told by dramatic features.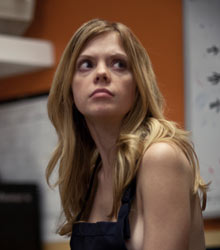 Compliance: Craig Zobel
In Compliance, one of this year's most divisive films, a prank caller posing as a policeman forces underpaid employees at a fast-food restaurant to subject a female colleague to a series of degrading strip-searches. Audiences reacted strongly to its depiction of people obeying power without questioning the moral authority behind it, and the abuses carried out in the film recalled Abu Ghraib and Guantánamo. In Arbitrage, an enormously wealthy venture capitalist (Richard Gere) tries to offload the toxic assets that made his fortune before someone finds him out. And in Benh Zeitlin's mesmerising debut feature Beasts of the Southern Wild, which won the grand jury prize, members of a dirt-poor community in Louisiana return to occupy their own homes illegally in the wake of a disastrous flood.